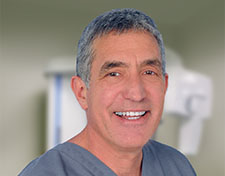 Dr. Mark Slavin is a native of Utica, New York who obtained his undergraduate degree Magna Cum Laude from Union College, his doctorate from Georgetown University and his General Practice Residency certificate from St. Joseph's Hospital in Syracuse. A certificate in the diagnosis and treatment of Temporomandibular Joint Dysfunction was obtained from The University of Medicine and Dentistry of New Jersey.
A third generation general dentist, Dr. Slavin holds his professional heritage as a source of great pride and inspiration. He strives daily to maintain the highest standards of integrity, patient commitment and professional care that were the hallmarks of his father's dental career.Dr. Slavin is enthusiastic about the benefits of General Dentistry and orthodontics and has a great passion for all the dental services he offers.
For more than 20 years Dr. Slavin has treated children and adult Orthodontic patients with a focus on creating balanced faces with wide full smiles and healthy Temporomandibular Joints.   Dr. Slavin is Invisalign and SureSmile Certified and emphasizes interceptive treatment and non-extraction methods.
A beautiful dentition and bright smile is now recognized as a focal point of a person's overall appearance. Dr. Slavin provides dental aesthetic makeovers that are not only exciting for the patient but can provide a wonderful boost to one's self-confidence and overall well being. Recent advancements in conservative aesthetic dentistry have made a beautiful smile achievable for even the most challenging cases. Dr. Slavin is experienced in the construction and placement of Lumineers/ Veneers.
Dr. Slavin graduated from the very first post-graduate program in the diagnosis and treatment of Temporomandibular Joint Dysfunction problems in 1983 from the University of Medicine and Dentistry of New Jersey.
Many people suffer from Temporomandibular Joint Dysfunction for years without diagnosis and treatment. This often leads to a lengthy and very frustrating medical merry-go-round. For over 25 years, Dr. Slavin's TMJ patients have benefited from his expertise in restoring them to normal, pain-free jaw function.
Sleep Apnea sufferers benefit from Dr. Slavin's expertise in treatment of this common, often undiagnosed medical condition. Sleep Apnea involves repeated cessation of breathing during sleep and can lead to very serious cardiovascular, GI and psycho-social consequences. Symptoms are often limited to snoring and excessive day-time sleepiness. Once diagnosed at a sleep center, implementation of a Continuous Positive Air Pressure (CPAP) machine is often recommended. Though CPAP machines can be entirely effective, up to 50 percent of patients prescribed CPAP therapy find it claustrophobic, uncomfortable, cumbersome or inconvenient. For these patients, treatment with an oral appliance has been shown to be an easily tolerated, effective alternative.
Dr. Slavin is one of only a handful of doctors in Upstate New York to be granted Diplomate status by the American Academy of Dental Sleep Medicine.
Dr. Slavin is a member of the following groups:
American Dental Association; Past President Fifth District Dental Society; Chairman, 5th District Dental Society Claims Committee; Past President of Oneida-Herkimer County Dental Society; New York State Dental Society; Past Representative Council on Government Affairs 5th District; International Association for Orthodontics; Diplomate, American Academy of Dental Sleep Medicine; National Sleep Foundation.